Thanksgiving is the time to celebrate our many blessings in the company of friends and loved ones – to set intentions and enjoy the abundance that is already present in our lives in new and meaningful ways. On Thanksgiving, we celebrate the circle of giving and receiving, with renewed gratitude for the never-ending cycle of abundance. When we feel and express gratitude, we honor, emanate and magnetize it. In a profoundly beautiful way, our thankfulness is the affirmation of life, creation, and Source.
Practicing gratitude allows us to welcome positive thoughts, which makes us happier and healthier. Gratitude changes the heart's rhythm faster than any other positive reaction or feeling, and when we vibrate with the energy of gratitude, we impact those around us. These positive feelings turn into positive actions. Your body then radiates with gratitude and grows with thankfulness – every prayer, heartfelt moment, second of acknowledgment, and authentic praise makes a difference, raises the vibration, and releases a shower of shimmering light upon us all.
This Thanksgiving, as you gather with friends and family, in the traditions of your choosing, I encourage you to affirm your gratitude with words – as words with intention literally become form that can change the world. I also encourage you to offer a stranger compassion, a helping hand, or a home-cooked meal with genuine acceptance. Acceptance goes beyond the offering; it translates into the acceptance of our interconnectedness and inherent value. Be thankful for the bird's morning song, cream in your coffee, an unexpected smile from a stranger, the roof over your head, the ability to read this blog or the love in your life. When you fully receive the gifts of each moment, and the beauty in all that surrounds you, life gives you more of these very things, and so much more.
In the spirit of Thanksgiving, open yourself to the entire Universe by opening the floodgates of gratitude and abundance. Everything, from the design of your fingernail to your connection to others, comes from the infinite love of Source. I wish you a wonderful Thanksgiving with family and friends – surrounded by the people you love and food that nourishes your body and spirit.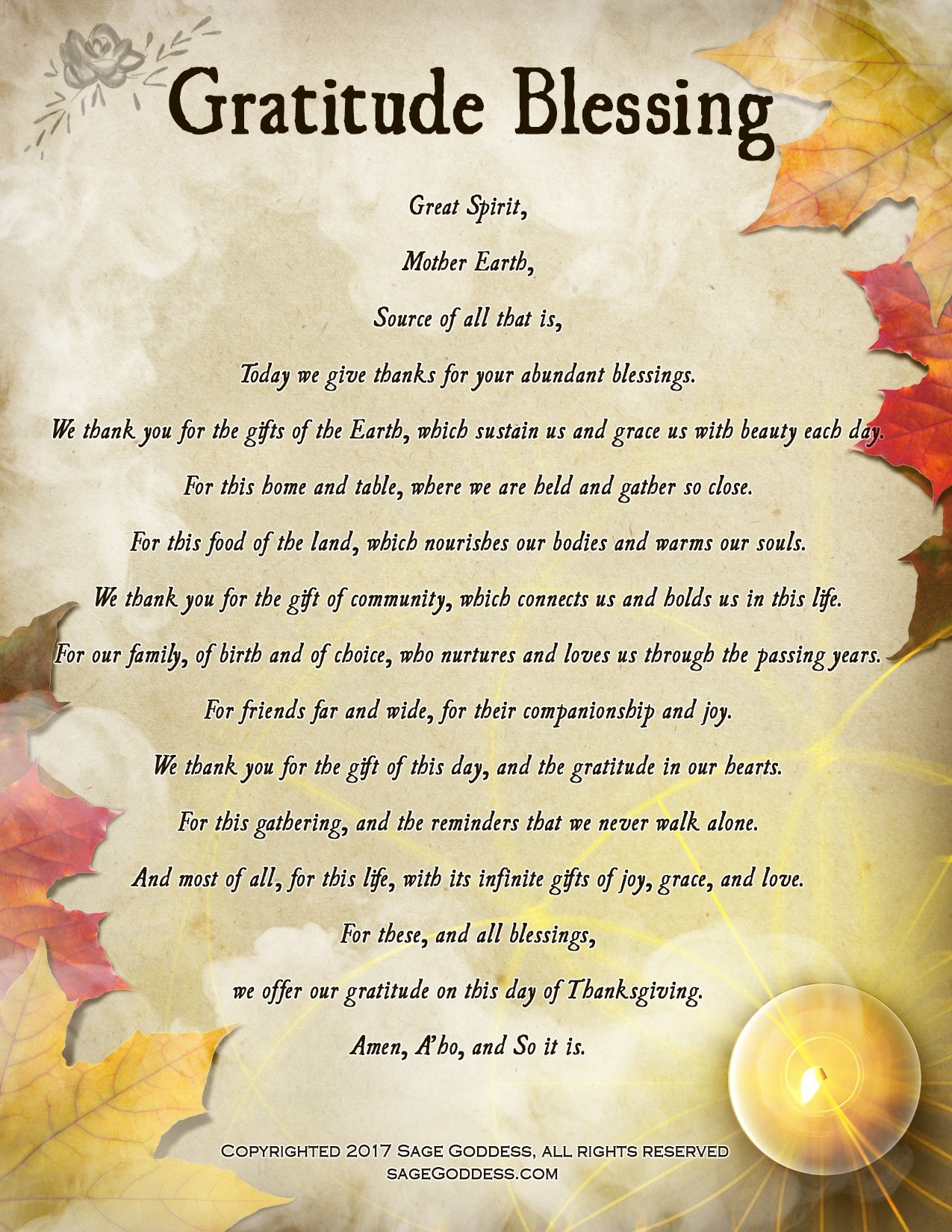 ~*~ ~*~ ~*~ ~*~ ~*~ ~*~ ~*~ ~*~ ~*~ ~*~ ~*~ ~*~ ~*~ ~*~~*~ ~*~ ~*~ ~*~ ~*~ ~*~ ~*~
Are you ready to manifest your deepest desires? Are you ready to transform into your best self, completely healed and happy? Join my Sage Goddess Soul Shift program designed to accelerate spiritual transformation, activate personal potential, and improve energetic flow. 
Do you love harnessing the energy of the moon in all her phases? Join my Full Moon Ritualists community on Facebook where we share educational tidbits on working with moon energy, learn about astrology, and engage in lively, wild conversations with other like-minded tribe members.
 Are you curious about the medicine of gemstones and crystals? Join my Gem Haven community on Facebook where we share tips and tools on harnessing the magic of gemstones and crystals, educate you on the properties of the most popular stones available on the planet today, and engage in lively, wild conversations with other like-minded tribe members.
 Are you a perfume lover like I am? Do you know the healing magic of the oils that are used to make all of our perfumes? Join my Perfumery community on Facebook where you can learn about the properties of certain essences, how to work with certain blends to manifest your intentions, and engage in lively, wild conversations with like-minded people.
I absolutely love and encourage all magical feedback from my readers! However, I do not regularly moderate comments on the Sage Goddess blogs. So if you have a specific question or query that you'd like us to answer, please contact us via our Facebook page.