Magic comes from believing in the stories and traditions that shaped our holidays – whether you celebrate Christmas, Hanukkah, Yule, or any other observation. As adults, we know there is no big man in the sky breaking into your house to leave gifts and steal your cookies. But we do believe in the spirit behind these magical tales. Faith is the spark of hope that keeps our wonder alive. It is the driving force behind our vitality. Faith asks us to believe despite circumstance. Whichever tradition you follow, there is always one constant, and that is faith.
"Only in the darkness can you see the stars." – Martin Luther King Jr.
Over the centuries, the stories behind Yule have been adapted and changed throughout many cultures. According to Old Norse myths, Yule celebration (feast) starts at winter solstice – the longest night of the year, and continues for 12 days. Odin, the Allfather, was known as the gift-bringer. On December 21, Odin led both gods and spirits above the rooftop on his wild ride – his great hunt. They would fly over the countryside, causing fun chaos and debauchery, frightening anyone out at night. Odin delivered toys and candy to children, and Thor would ride a chariot in the sky drawn by two goats – also known as the Yule goats. Yule logs engraved with runes were burned for good fortune for the coming year. These logs were made of oak, and they burned throughout the Yule feast to chase the darkness away.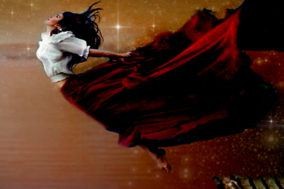 Yule was, and still is, a magical night. Vikings believed that Yule, unlike Samhain, was the time of year when the veil between the living and dead was at its thinnest. Supernatural beings would walk alongside humans, and various spirits would bring blessings to humans who had faith in them. Think of Christmas stories like The Nutcracker, when the dolls would come alive at night. They came alive because spirits inhabited them, creating a magical nocturnal world. Without belief or faith, their magic wouldn't exist. During the holidays, we keep the magic alive with our faith. Faith lights up the darkness of the longest nights.  
Faith, like The Star in the Tarot, represents hope and inspiration. The Star is where we discover a new faith in ourselves and All That Is. The Star encourages us to share the joy of faith with the rest of the world! This feeling is exactly what many of the ancient traditions strive for. This is the place where the heart opens wide for the first time – a place of supreme joy.
If you're into astrology, think of Neptune. A planet that represents our boundless imagination, faith in something greater than ourselves, and hope. It is also unconditional love, compassion, and acceptance. Neptune represents everything that is out there, and the interconnectedness of it all. This is why we associate Neptune with fantasy, dreams, visions, angels, and other dimensions. Neptune energy is hard to contain and define – its very nature is contrary to definition and separation. It's magical, intangible, and filled with infinite possibility.
Five ways to ignite your faith during the holidays

 🦋

The beauty of faith comes from your own spirit and permeates through you, then into others. Faith doesn't only come from believing in incredible stories – it also comes from believing in the world around you. In the people around you, even when they don't believe in themselves. Faith is undefined. It's about believing without solid proof – against all odds. Faith keeps the Yule log burning through the darkness. Here are five ways you can ignite your faith and renew the faith in others:
1) See the good in people
If you're looking for a flaw in others, you will always find it, and if you're looking for a reason not to love something or someone anymore, a solution will always present itself to you. People are not inherently bad or good – we all have both inside ourselves. It's what we choose to believe about people, or ourselves, that matters. It matters which side we choose to feed. Renew your faith in others by seeing the good in people. Allow them to show you their light. Look at the positive. Give your friends and family the opportunity to shine through their passions, and praise them for it.
2) See the light in yourself
Renew your faith in yourself by being kind to YOU. Believe in yourself, think about your accomplishments, do what you're afraid to do, and keep moving forward. You're a lot stronger than you think you are. What makes you special? What sets you apart? What magic do you carry inside of yourself? There was a time you believed you could do anything. Try to find that faith – that belief – and allow it to give you strength.
3) Read holiday stories
Reading Christmas or Hanukkah stories, or ancient Yule myths will create a warmth of recognition inside your heart. It will broaden your mind and make you feel connected to past traditions. The mystery of these myths will spark your imagination and fill you with wonder. If you believe these stories are real, they're real. If they resonate with you, or if you find you have a deep connection to them, believe in them. If not the stories, then the feeling – the hope – they give you. This faith, of believing something that you can't see, allows you to have faith in your own inner wisdom.
4) Go to a spiritual center or a house of worship
There is no spirituality or religion without faith. Attend a church and allow the faith of others inspire you. Religion exists because people believe it does – because even without proof they feel an overwhelming connection to something larger than themselves – something that connects us all. During the holidays, churches have special, traditional services such as midnight mass, where people come together and celebrate the "true" meaning of Christmas. If you lean more toward spirituality than organized religion, then I urge you to attend yoga sessions or spiritual centers for meditation. Whatever you believe in and however you practice that belief, enjoy it with a community. Lift your vibration with others so the bond of your faith can grow stronger.
5) Try new things
During the holidays, events and gatherings hardly ever go according to plan. This can discourage us and our belief in ourselves. Trying new things tests the faith you have in yourself and the energy around you. If you change a part of your daily routine a day, one thing that makes you slightly uncomfortable  – taking a different route, saying "yes" when you want to say "no", going for that donut instead of your fruit bowl – you start rewiring your brain. You renew your sense of hope. Your head, heart, and body start adapting to change and slowly create space for new ways of thinking, being, and feeling. You will be more likely to face and grow through challenges when you stop camping in your comfort zone and explore different avenues. You will be more likely to have faith in yourself; in your ability to respond to whatever comes your way.
In closing
My wish for you this holiday season is that you have faith. Have faith in yourself, in others, and in the magic that surrounds you. Believe the holiday stories you treasure with all your heart, find a connection to them, and let your imagination run away with you. May you be filled with an unwavering amount of hope and love, now and always.
~*~ ~*~ ~*~ ~*~ ~*~ ~*~ ~*~ ~*~ ~*~ ~*~ ~*~ ~*~ ~*~ ~*~~*~ ~*~ ~*~ ~*~ ~*~ ~*~ ~*~
Do you love harnessing the energy of the moon in all her phases? Join my Full Moon Ritualists community on Facebook where we share educational tidbits on working with moon energy, learn about astrology, and engage in lively, wild conversations with other like-minded tribe members.
I absolutely love and encourage all magical feedback from my readers! However, I do not regularly moderate comments on the Sage Goddess blogs. So if you have a specific question or query that you'd like us to answer, please contact us via our Facebook page.