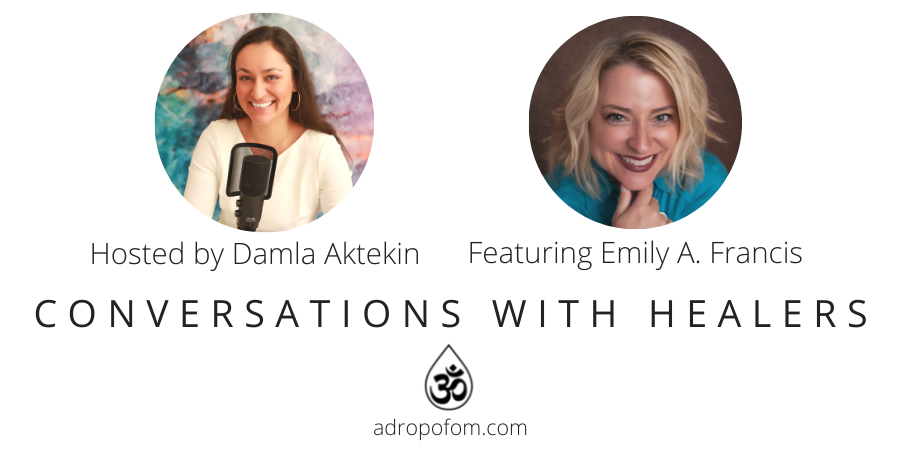 In this Conversations With Healers episode, my guest is Emily A. Francis, Bodyworker, Healer, Host of the All About Healing Radio Show and the Author of Healing Ourselves Whole – An Interactive Guide To Release Pain And Trauma. Emily and I talked about:
Her story of learning to leave her previous programming and anxiety behind, and re-building herself and her body,
How your body stores energetic information (what Emily calls carrots) and how to dig into this information,
What our bodies have to tell us about trauma, shame, guilt, and grief, as well as happiness, joy, feeling connected, and empowered,
The trauma that surgeries create in the body including C-section,
Whether we can ever completely heal ourselves,
When we need to get healing support to go into the wilderness of our wounding,
The joys of living in a country you weren't born in,
And more.
My favorite healing nugget from Emily is "I go sit still. I go have conversations with God under the moon and look at nature. I feel how I feel to direct me to each next right step. That to me is one of the most powerful things that you can become: your own guide."
You can find out more about Emily and her work at her website. Her book Healing Ourselves Whole – An Interactive Guide To Release Pain And Trauma is an amazing resource for healing deeply embedded energetic wounds in your body and expanding into your joy and well-being. I highly recommend you to try Emily's freely available guided healing meditations that go hand in hand with her book. You can also follow her on Instagram and Facebook.
This idea of our mind and soul checking out but the body having to stay put during trauma stayed with me from Emily's book:
"Many victims say that when they were being physically or sexually assaulted, they ejected themselves from their bodies and hovered above so that they would not have to feel all of it. That is a gift of the mind that helps us to survive the experience. People talk about looking closely at the ceiling, counting cracks in the wall, or doing anything with their thoughts that allowed escape from what was being done to them. The body, however, does not have that same luxury. The body cannot leave itself. With that being said, in situations when people experience extreme fear, the body will release hormones that will lessen the mind's perception of actual pain, but that does not erase the experience from the body. The body takes the pain and absorbs the trauma." (p. 47)
If this conversation touched you in any way, inspired you, or spoke to you, please share it. You can share it in a conversation, post about it on Facebook or Instagram, or email or text it to your friends and family. We truly appreciate your support in spreading the love and light that we hope to create with these conversations!
Listen to other episodes here.
Take this quiz to determine what your energetic wounds are and how they show up in your life.
Subscribe here for future episodes and to receive a mini-email course to help you learn more about your energetic wounds.
With love and light,
Damla
(Photo Credit for Damla: Eye Sugar Photography)
WATCH HERE:

LISTEN HERE:
Podcast: Play in new window | Download (Duration: 56:20 — 42.7MB) | Embed
Subscribe: Apple Podcasts | Google Podcasts | Spotify |